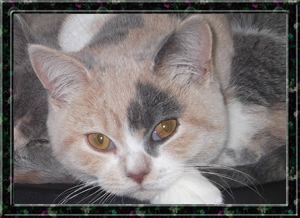 Our beautiful Bimbleweb Tallulah Falu is a Blue Tortie and White (22a).
She is the daughter of our own Adniosh Bimbleweb Ambafalu and Cobbychops Caradog.
I had so hoped for a blue Tortie and White from this mating and here she is!
She is an incredibly sweet natured little girl, who in 2011 had her first litter of stunning kittens,
proving herself to be a wonderful mother too!
Tallulah carries Chocolate.