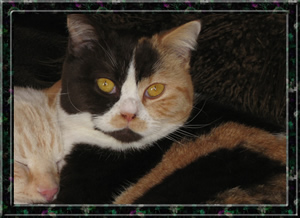 Kernmere Patchouli is our lovely a Chocolate Tortie & White BSH queen (22b).
She is an affectionate, intelligent, inquisitive, graceful little acrobat.
She produces lovely, chunky babies and is a very attentive mummy cat.
Many thanks to Jeanette and Betty Knapp for our gorgeous girl :-)
In 2012 we plan to mate Patchouli to the very handsome Charmoden Simplymaverick.
We are very excited about this mating as this will give her Chocolate and Lilac kittens!