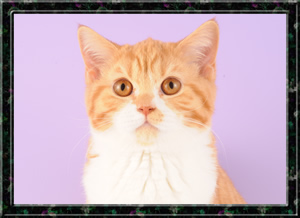 Adniosh Bimbleweb Ambafalu is our Red and White Bi-Colour queen (31d). She has beautiful amber eyes.
Being one of Kernmere Patchouli's first litter, we have had the pleasure of watching her grow from day one.
She is a cautious but inquisitive, loving girl. Unusually for a cat, she seems to have a fear of heights!
Amba had 2 litters including our gorgeous Bimbleweb Tallulah Falu.
Ambafalu is now retired.

Photography byBarry Newcombe of Woozles